Contact
Our Achilles high pressure, CSM drop-stitch AirFirm™ floors continue to provide the industry's toughest air decks. When you consider the abuse floors take from scrapes, the sun, salt water, oil and gasoline, it makes sense to have the toughest material available to protect them. And besides being durable, their unique construction consisting of thousands of polyester threads makes these floors remarkably rigid and incredibly lightweight as well. The result is not only a more stylish tender, but also one that outperforms other air floor models by a wide margin.
Length: 230 cm
Inside Length: 155 cm
Beam: 144 cm
Inside Beam: 66 cm
Tube Diameter: 39 cm
Weight: 25 kg
Load Capacity: 320 kg
Person Capacity: 2
Recommended H.P: 4 (2-4) standard
Maximum H.P: 4
Air Chambers: 2 & keel & floor
Inclusions

- Achilles CSM-reinforced fabric
- Four-layer seam construction
- Removable Achilles CSM high-pressure drop stitch air floor
- Fold-down locking oar system with two-piece breakdown aluminum oars and oar holders
- Full-length teardrop rubbing strake
- Bow carry handle and towing D-rings
- Interior bow lifting D-ring (except LSI-230E)
- Removable aluminum rowing seat (LSI-230E has wood seat)
- Bailer valve
- High volume/high pressure foot pump with pressure gauge
- Protective pad for gas tank
- Fiberglass encased v-shaped transom (except LSI-230E which has a painted wood transom)
Air keel
- Extra seat attachment patches on LSI-290E, LSI-310E, LSI-330E and LSI-360E
- Carry bag
- Maintenance kit
- LSI-230E, LSI-260E, LSI-290E,and LSI-310E have webbed passenger, helmsman, and rear carry handles.The LSI-330E and LSI-360E have rear molded lift and carry handles. All models have a fabric helmsman grip except the LSI-360 which has a molded rubber helmsman grip
View full details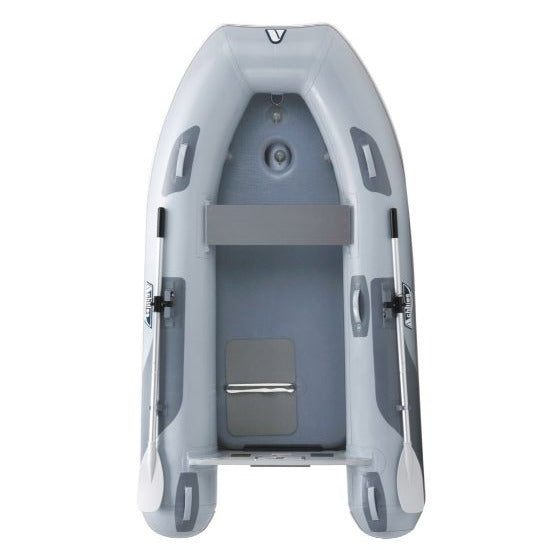 Our Boat Videos
Watch our videos of our models as we explain how to set up and pack up as well as walking around the boat to explain each of its features.